From news surrounding smartphones to Spotify's listening numbers, there's a lot to cover in this week's International Marketing News. Read more.
International Marketing News: Global Smartphone Market Shrinks by 6%
This week in the international newsletter we see the smartphone market shortage, Germany and their biggest sales growth in 5 years, the Asian eCommerce 'Shoppe' expanding to Spanish markets and Spotify beating 40 million ad-supported US listeners.
Global smartphone market shrinks due to shortages
According to Canalys, global smartphone shipments fell 6% in Q3 2021, and market dynamics are altering as vendors deal with component shortages and struggle to meet demand.
With a 23% global market share in Q3, Samsung returned the top place, while Apple reclaimed the number two spot with a 15% market share, thanks to strong early demand for the iPhone 13. Xiaomi, the previous leader, slid to the third position with a 14% market share, followed by Oppo and Vivo, each with a 10% market share.
According to Counterpoint, the number of new device models launched in the first half of 2021 fell 18% YoY to 310. Because the effects of the shortage are predicted to worsen, scarcity and price rises will almost certainly worsen before they improve.
During their most profitable quarter, Apple is lowering iPhone 13 production plans for 2021 by 10 million devices. According to Counterpoint, leading smartphone vendors reported only receiving 70% of their required components in Q3, and roughly 90% of the smartphone market is projected to experience component difficulties by late 2021.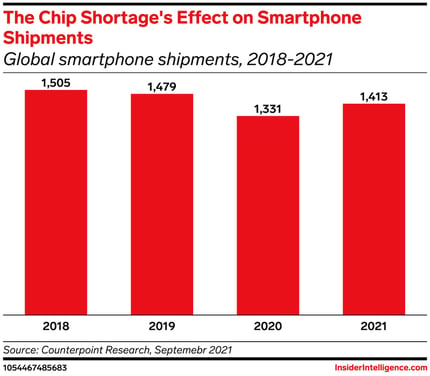 Smartphone manufacturers are experimenting with a variety of techniques to deal with component shortages.
According to Canalys, this involves delaying or cancelling product launches, cutting production, or making last-minute alterations to devices to meet volume capacity.
Canalys said smartphone channel inventories are already running low, and the impending wave of demand will be impossible to meet as more customers begin to anticipate similar sales cycles.
German Sales Grow At Fastest Rate In Five Years
With total sales of 22.2 billion euros, Germany has experienced a considerable increase of 14.8%. This is the biggest third-quarter growth in the last five years.

Despite the fact that consumers are returning to physical retailers in Germany, eCommerce has been rapidly increasing. The Bundesverband E-commerce und Versandhandel Deutschland (BEVH), a German interest group, has released new data on German eCommerce growth in the third quarter.

Digital direct sales by manufacturers are the only sales channel that has risen in double digits every quarter since the onset of the epidemic. Manufacturer mail order companies increased by 23.3% from January to September 2021, outpacing all other categories of sales.
In the third quarter, multichannel retailers witnessed the fastest growth in online sales. Customers preferred to order online even though they were permitted to open their physical stores for an entire quarter.

According to the survey, total online sales were roughly 67.4 billion euros in the first nine months of the year. When the sales of internet services are factored in, the total comes to 74 billion euros.

With the expectation of a good fourth quarter, which includes the holidays, German eCommerce will surpass the 100-billion-euro mark for the first time this year.
Shopee Expands Into Spain
Shopee, a prominent Singaporean online marketplace, is expanding into Spain. The company is rapidly expanding across Europe, as the launch comes on the heels of their September expansion to Poland. As of today, Spanish sellers and consumers can use their platform.

Shopee's new Spanish Instagram account, @shopee es, broke the news. The company just announced that it will offer free shipping throughout Spain with no minimum purchase amount in a blog post. The marketplace is trying to connect local suppliers to its international selling platform, much as it is in Poland.
Shopee is already a leading eCommerce site in Asia, with a billion euros in annual revenue. The international marketplace is similar to AliExpress in that it offers a wide choice of products at reasonable rates. Consumers may purchase everything from clothing and cosmetics to electronic devices and household equipment. The company is owned by Sea, which also owns Garena, a well-known European gaming company.

Shopee is now available in 13 countries across Asia, South America, and Europe. In the European market, the marketplace is rapidly gaining ground.

According to Shopee's annual report, the company is developing rapidly financially. The platform earned fifteen billion dollars in gross commercial value for its third-party vendors in the second quarter of 2021. In comparison to the previous year, this is an almost 90% increase. With a net worth of $20 billion, Forrest Li, the CEO of Shopee's parent business, recently became the richest man in Southeast Asia.
Spotify Listeners In The United States Surpass 40 Million
This year, Spotify will have 41.5 million ad-supported US listeners, up 9.7% from 2020, showing a growing trend of ad-supported listeners expanding their share of the primarily subscription-based platform.
As the popularity of podcasts grows on Spotify, the number of ad-supported listeners grows as a percentage of total Spotify listeners. By 2025, there will be roughly the same amount of ad-supported listeners as Premium members if this trend continues.
Spotify will have 83.1 million monthly listeners this year, up 10.1% from last year, making it the most-listened-to service in the US by far.
For the first time, Spotify listeners will account for 30% of US internet users next year.



In 2025, Spotify will have over 100 million US listeners, with 52.0 million ad-supported listeners and 52.2 million paying listeners.
And that brings us to the end of our International marketing news! If you'd like to discuss anything mentioned in this blog, please do not hesitate to get in touch.