This week, Andrea Diaz takes us through the latest in international marketing news, detailing Brexit, smartphone shipments and more. Read on to learn more.
This week, there's news about Brexit measures for imports and exports, China's mobile phone domestic market, the Budbee success as a result of the pandemic, as well as much more.
Significant Increases In Costs, Paperwork and Border Delays For UK Business
Since Great Britain's withdrawal from the EU's customs union and single market at the end of 2020, the UK's public spending watchdog has warned that Brexit has harmed UK trade volumes with the EU, with businesses facing greater prices, more paperwork, and border delays.
Despite the fact that it was impossible to distinguish the consequences of Brexit from those of the Covid-19 pandemic, the Public Accounts Committee concluded that "EU withdrawal has had an impact, and new border arrangements have added costs to business."
The government must address "immediate delivery and readiness concerns in imposing import controls, and to have a border in place that operates properly without further delays or temporary measures," according to the report.
Smartphone Shipment Up 1.1% in China in 2021
According to the China Academy of Information and Communications Technology, total mobile phone shipments in China's domestic market will reach 351 million in 2021, a 13.9% increase year on year.
Shipments of domestic brand cell devices in China totalled 304 million in 2021, a 12.6% increase YoY, accounting for 86.6% of total mobile phone shipments in the same period. In other words, nearly 87 people out of every 100 buy domestic mobile phones.
In 2021, 5G mobile phones shipped 266 million units, representing a 63.5% YoY increase and accounting for 75.9% of mobile phone shipments during the same period. 5G mobile phones accounted for more than 80% of the market in November and December 2021.
According to IDC, 329.3 million smartphones were shipped in China in 2021, representing a 1.1% year-on-year (YoY) increase.
404 new smartphone models were listed in 2021, representing an increase of 11% YoY and accounting for 83.6% of the total number of new models published in the same period. It is clear that functioning phones continue to appeal to a large number of people.
According to IDC, China's smartphone market shrank 3.5% YoY in Q4 2021, to 83.4 million sales. In the fourth quarter of 2021 and for the entire year of 2021, Apple and Vivo topped the charts. Honor maintained its upward trajectory in the fourth quarter of 2021, climbing another notch from the previous quarter. According to IDC, in 2022 there will be more fierce competition.
Apple shipped more over 50 million smartphones in 2021, and it grew at the fastest rate of the top five vendors. With the debut of the Honor 60 and X30 series in December, Honor's growth continued in Q4 2021.
In 2021, Vivo rated first and improved its market position in the >US$400 market and online channels. Oppo was placed second in 2021, with the K, Reno, and Find series capturing a larger share of the company's portfolio than last year. Oppo's stronghold in the $300-500 pricing range was also enhanced in Q4 with the debut of the Reno 7 series. In 2021, Xiaomi was rated third. With barely a 0.5% market share in 2021, China shipped 1.5 million foldable cell phones.
Swedish Company BudBee Doubles Revenue in 2021
Budbee's revenue has doubled in 2021 compared to the previous year. The corporation had a revenue of 80 million euros last year. As well as this, Budbee's market share in its home nation of Sweden has risen to 1 to 5%.
Budbee operates in Finland, Denmark, Belgium, and the Netherlands, in addition to Sweden. Big retailers like ASOS and H&M collaborate with the logistics IT firm.
Budbee is well-known for its fossil-free same-day and next-day delivery as well as parcel lockers. With a real-time monitoring software, customers can keep track of their packages.
The year's record revenue represents the first time that all markets have had a positive operating result. Budbee claims to have a reach of more than 30 million individuals in Europe and over 6 million clients. The scale-market up's share in Sweden even climbed to 1 to 5%.
"While we entered the industry as a challenger, we've achieved remarkable growth in 2021," says CEO Frederik Hamilton. This development exemplifies our goals. With confidence, we look forward to 2022."
Budbee has now installed over 4,000 parcel lockers across Europe. There were barely 800 in April of previous year.
For quite some time, parcel lockers have been on the rise: the number of pick-up stations in Europe has climbed by 40% since 2019. The parcel locker market in Europe is becoming increasingly competitive, with companies like InPost and Swipbox competing for a piece of the action.
Budbee attributes some of its growth to the pandemic's impacts, according to the company. For example, H&M employs its parcel lockers as a click-and-collect service.
During lockdowns, this was the norm, aside from home delivery. This is on top of an overall increase in parcels and, as a result, returns. Therefore, Swipbox, a competitor, had a pandemic-related surge as well: in 2021, over 50% more goods were delivered to their lockers.
Retail Spending Is Fueling Google's enormous Ad Growth
According to parent firm Alphabet's earnings statement last week, Google's ad revenues increased by 32.6% year over year to $61.24 billion in Q4 2021.
"Retail was again, by far, the largest contributor" to ad growth, according to Google's chief business officer Philipp Schindler, who added that finance, media and entertainment, and travel were the next biggest contributors.
The retail industry's prominence in the digital ad market has rapidly expanded as a result of the significant surge in internet purchasing during the pandemic.
Retailers have generally been the greatest spenders, but their market share is still growing rapidly.
According to the eMarketer report, retail expanded its ad expenditure the second quickest of all industries last year, at 34.5%, after only entertainment.
Retail advertising spending will expand at the quickest rate this year, at 20.2%.
It's also laying claim to Google's most essential forms. Between pre-pandemic 2019 and 2023, retail's proportion of search ad spending will increase by more than 5%, from 23.4 percent to 28.7%.
Over the same time period, the industry's proportion of video ad expenditure will increase from 19.1% to 24%.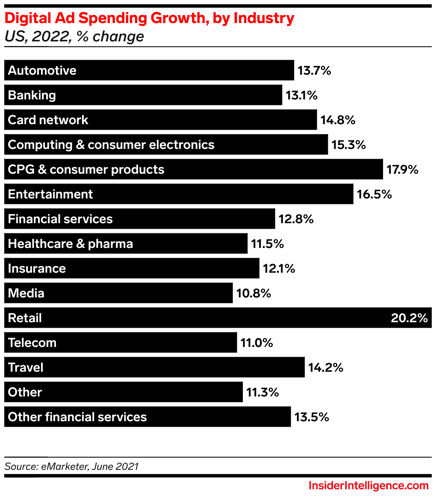 On Google's end, this meant expanding into social commerce with services like livestream shopping on YouTube and enhancing its
Google Shopping offering with visual search integration and improved filtering choices.
Those efforts seem to be bearing fruit: According to a Morgan Stanley survey quoted by Insider, the percentage of respondents who indicated they go to Google or YouTube first to explore a new product increased from 54% to 57% in the six months between May and November 2021.