Head of International Marketing, Alison Booth returns with a weekly round-up of the need to know international marketing news. This week's update includes 5G, demographic trends, trade deals with the UK and a Mondalēz case study.
international marketing news: could 5g improve payment and mobile commerce experience?
What's new, important and interesting in the world of international marketing? This week's update includes the opportunity 5G presents to enhance mobile commerce, the importance of understanding demographic trends and which market is likely to form a trade deal with the UK next. There's also a case study about effective global personalisation!
Could 5g improve payment and mobile commerce experiences?
eMarketer investigate the benefits 5G could bring to the retail industry in terms of supporting in bringing consumers back in store safely.
Zero touch checkouts have boomed recently with consumer interest in mobile payments and app orders being high according to Periscope By McKinsey consumer surveys. Frictionless stores are also notable by their increasing presence with stores like Amazon Go, a cashierless store using its patented Just Walk Out technology.




Amazon is continuing to test a wider range of improved store experiences with the arrival of Amazon Fresh grocery stores with Dash Carts that automatically scan and charge the items in the trolley. This follows the successful launch of the Amazon One handprint technology in September with plans to licence the technology to other retailers.

Shop and go mobile payment systems like Lidar are becoming more commonplace and eMarketer forecast US mobile payment volume to rise from

$705.28 billion in 2019 to $2.541 trillion in 2025. #

5G networks can help to speed up all of the above payment processes supported by the use of SIM authentication (no Wi-Fi logon required) reduces the opportunity for fraud and transaction security trough speeding up the process.
The current status on trade deals - which market will be next?
The Institute of Export and International Trade update on the race between Australia and New Zealand to become the next trading partner with the UK. Australia is motoring ahead with trade minister Dan Tehan travelling to the UK for further trade discussions
Government forecasts indicate that the £18.5 billion in exports to Australia in 2019 could increase by a further £1 billion with a free trade deal

Talks with New Zealand have also made rapid progress, as the government seek to reduce export tariffs on UK cars in exchange for the removal of import tax on New Zealand goods

The objective of the scheme is to reduce carbon emissions and to improve working conditions

US trade deal discussions have slowed, as Biden has more pressing areas to turn his attention to currently. However, tariff duties on food and beverages are being reviewed.
Not all digital natives are the same
The Fashion Law carried out a study into how to understand differences in buyer behaviour amongst Gen Z consumers:
Gen Z consumers have been cited as being the most digitally savvy, but it is important not to assume that the level of digital exposure and experiences applies to all Gen Z consumers.

Online platforms used vary country to country, as does time spent online e.g. Gen Z consumers surveyed in Japan confirmed that a larger proportion of their time spent online has been using video sharing websites and online games with Line followed by Twitter, YouTube, Instagram, TikTok and Facebook being the most popular platforms. Many people tend to vary our their research online and then have discussions with their friends online before deciding to purchase.

Whereas in Vietnam Facebook and Zalo are the platforms of choice. Research prior to purchase is carried out online and discussions around making a purchase are often with their parents.

Gen Z in the UAE spend on average 3 hours online, but female family members sometimes have their access to social media limited by male members of the household. The preference is to shop in store using digital technology to find what they want and compare prices, which is assisted by the advancement in the omni channel experience in this market.

This exemplifies the importance of understanding your target market for multi market exporters.
MONDLĒZ iNTERNATIONAL DEMONSTRATES HOW TO ELEVATE PERSONALISATION GLOBALLY
Think with Google provide insights gained from Mondalēz's Snacking Study in 2020 to show how it planned and implemented a global personalisation strategy:
Dynamic content creation helped Mondal

ēz to make its creative strategy as effective as its carefully curated targeting and segmentation. Campaign variations were designed to resonate with different audiences rather than delivering the same message. For example, the Oreo Eye On The Clock campaign reminded parents that

"nap time equals snack time," and young professionals were served "Working late? Have a cookie." messaging.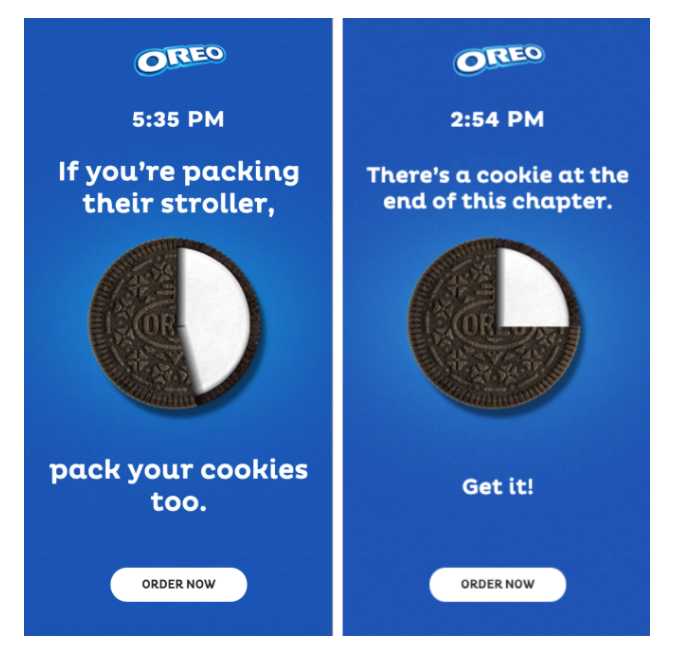 Connecting its infrastructure for speedy scaling of its personalisation has been facilitated by applying a robust taxonomy across all datasets to organise all data points in Google Cloud enabling Marketing, tech, media and creative teams to set objectives together. The infrastructure has facilitated a local first basis as demonstrated by the Oreo "Stay home, Stay playful" YouTube campaign, which was emanated from responding to life in lockdown in the Middle East and Africa and was then scaled globally while keeping regional relevance.

Technology has enabled

Mondalēz to monitor, deploy and adapt the most effective creative possible alongside driving reach and cost efficiencies through optimisation of the media mix.
So there you have it! This week's international marketing news round-up. If you have any questions or would like to talk more about anything mentioned this week, please get in touch.