Our Head of International Marketing, Alison Booth, is back with another roundup of the global news stories you need to know about. From the best social stories and campaigns from February 2021, to the impact of California privacy law on ad revenue, read more.
International Marketing

News: The Effects of California Privacy Law on Ad Revenue and Inventory
What's new, important and interesting in the world of international marketing? This week we take a look at the impact of California privacy law on the ad industry, the UK's trade agreement with Ghana in order to herald further agreements with other African markets, an overview of how takeaway sales have evolved throughout lockdown, and insights into how brands are assessing their best routes into communication on Clubhouse.
THE IMPACT OF CALIFORNIA'S PRIVACY LAW ON AD REVENUE AND INVENTORY
Digiday have been surprised to discover that the California Privacy Law has not had an impact on ad revenue, prices or inventory, despite leading to legal and compliance software costs.
Europe's stricter privacy regime had a negative impact on ad revenue and targeting capabilities, and advertisers feared similar issues to California's Consumer Privacy Act (CCPA), but these do not seem to have transpired

The CCPA is the reverse of GDPR in that websites need to give notice of tracking and provide an option to opt-out, but in the absence of a defined standard, sometimes compliance notices make it easier to opt-in rather than out
Due to the openness of interpretation of CCPA, advertisers are still putting budget into cookie-based audience segments

The CCPA is inspiring other states to look at their privacy legislation. If more states adopt this approach, it is likely to drive a notable increase in users opting out
THE UK RETAINS PRE-BREXIT TRADE DEAL TERMS WITH GHANA
The Institute of Export & International Trade bring further news of trade deals in the throes of being agreed with the UK and states still outstanding.
The UK retains preferential trading terms it had with Ghana when still an EU member

Kenya follows hot on the heels of Ghana with similar preferential trading agreements that could be extended across five further East African countries

Africa offers trade growth opportunities with the UK following the creation of the

African Continental Free Trade Agreement to integrate trade between 54 countries with a collective GDP of $2.5 trillion
Australia and New Zealand are a priority for the UK to expand trade agreements with
A ROUND UP OF THE BEST SOCIAL STORIES AND CAMPAIGNS FROM FEBRUARY 2021
Econsultancy have collated key stand outs from social campaigns around the world that were ran during February 2021 to whet the appetite of marketers planning and launching inspirational campaigns to run this month.
Weetabix stopped consumers in their tracks with their Weetabix and beans Twitter campaign. While the Tweet itself received attention from a number of amused consumers, it was actually the response of other brands that led to the Tweet going viral: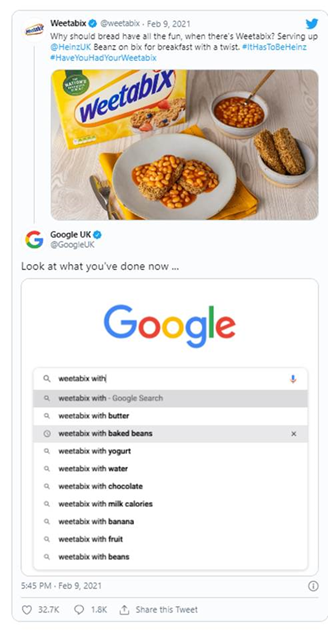 Mountain Dew's cross-channel promotion of its new flavour (Major Melon) created a buzz through offering $1million to the winner of a competition to count the number of bottles featured in its Superbowl TV spot, coupled with extensive usage of bright colours, a catchy soundtrack and a cameo from John Cena to capture viewers' attention.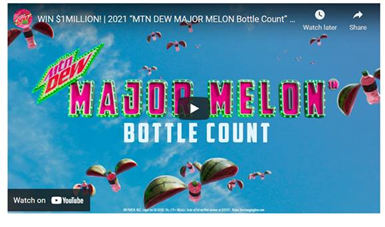 The Weekend stole the show during Superbowl commercial breaks with unusual camera work encompassing close-angled, dizzying shots of the singer's face as he danced around the stage, which immediately flooded social feeds with people making memes of the performance.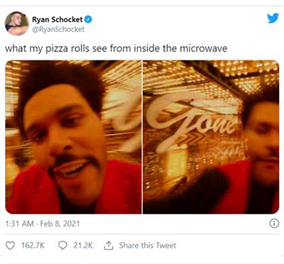 Walkers Max and KFC Collaboration brought us KFC flavoured crisps through a multi-channel campaign including Walkers' first Twitter Spotlight Takeover featuring an entertaining comparison of brand ambassador Gary Lineker to KFC Founder Colonel Sanders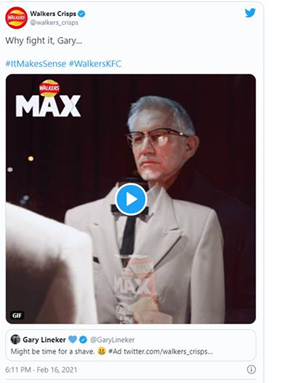 MEALS DELIVERED FROM DIGITAL MARKETPLACES HAVE BECOME THE LOCKDOWN TREAT OF CHOICE
eMarketer analyse the data behind the takeaway lockdown craze that has taken the US and many other countries by storm:
The numbers speak for themselves, with digital restaurant sales more than doubling YoY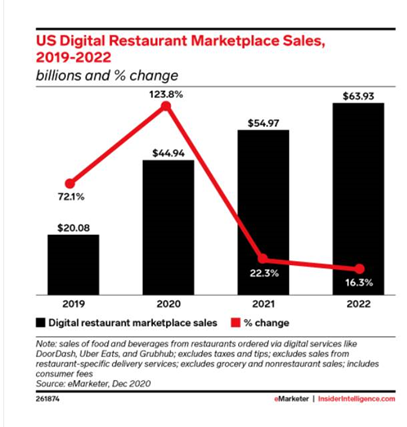 DoorDash and Uber Eats delivery and logistics capabilities have facilitated this trend through enabling restaurants to deliver without the need to hire drivers, which has significantly increased the range of cuisine available to consumers
DoorDash lead the way well ahead of Uber Eats and Grubhub, by driving 46.6% of the takeaway industry sales in 2020, with expected growth to 50% this year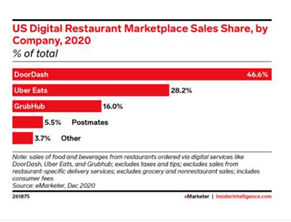 Demand is likely to subside with the vaccine rollout, as restaurants will concentrate their efforts on growing dine in sales

However, the convenience of having your favourite meal delivered to your door is a pleasure that people may continue to seek to enjoy, enabling digital restaurant marketplaces to hold a fairly steady position in the market once the current flurry of demand has subsided
BRANDS MAKE THEIR DEBUT ON CLUBHOUSE WITHOUT A DEFINED APPROACH TO BEST PRACTICE
ADWEEK explores the sudden appearance of brands on Clubhouse.
"NYU girls roasting tech guys" was a "shoot your shot" room run on Valentine's Day, where people could try to win a date. Pizza start-up, Slice, stepped in to console people rejected with a free pizza pie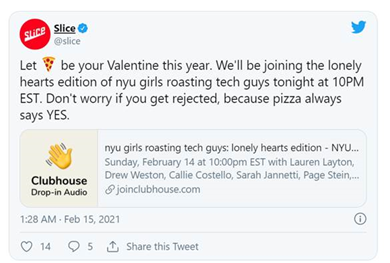 Brand inclusion on the platform is usually via a sponsorship model, but Slice side-stepped this by arranging the deal directly with the moderators of the room

Unless brands are ready to be human and fallible, they may struggle to gain traction on Clubhouse. Finding ways to communicate with consumers about brands they love could be a route in, but the objective needs to be about driving passion for the brand as opposed to awareness or sales
If you want to discuss any of the stories included in this week's international marketing roundup, book in a conversation with us today.