Rachel Poole and Sarah Kemp take us through the latest paid search news, including the introduction of lead ads in Facebook, growth to PLAs, Google Text Ads testing, as well as updates to segmenting in Bing Ads.
Facebook Releases Lead Ads
Facebook has released 'Lead Ads' which allows data to be collected from consumers in a more mobile-friendly format. The lead ads direct you to a pre-populated form including details such as email addresses and names so you can fill forms in faster. This could tackle an issue for Lead Generation as it allows mobile users to fill in forms in a less intrusive way, making Facebook advertising a stronger format for social media marketing strategies.
Google Shopping Becomes A Must For Retailers
Google PLAs have been around for a while now, and retail advertisers must take advantage of the trend being seen for Product listing Ads. Search Engine Land recently reported on the latest growth seen across Google Shopping, stating that there has been an increase in the format of PLAs which accounted for 43% of all retailers, and 70% of non-brand clicks in Q1. Some of the most recent drivers of PLAs are mobile, which saw clicks grow by 162% in Q1. Google has also expanded the appearance of PLAs on mobile.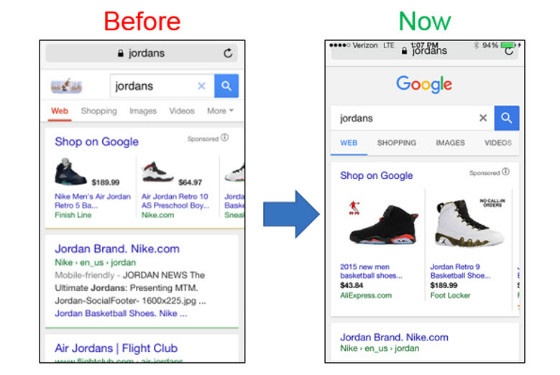 For advertisers, especially online retailers, this means that product listing ads should now be top of their list of priorities. What exactly needs to be done to ensure PLAs are working for your brand?
Advertisers will need to:
Optimise product feeds according to Google's guidelines.
Keep feeds up-to-date by regularly checking availability and pricing.
Use negatives to your advantage.
Use a reliable bidding platform for an efficient targeting system.
Closely manage any errors that may arise in your feed.
Regularly monitor and report to support any keyword additions you may add to the platform.
New Test For Google Text Ads

Google has begun testing a new look for text ads which may mean longer ad headlines, and changes to URL format.
After removing the right-hand side ads, Google is now testing a new, longer look for text ads that can display across devices in any ad position. Currently, ad headlines can include the first description line of the ad copy when the description line ends with a punctuation mark.
However the big difference in this test is that the text ads will feature a double (extended) headline and the full 70-character count of description copy. The display URL will also see a format change allowing the advertiser to use two paths for the domain name.
Google has not officially announced the launch of this test. It is currently being tested in a closed beta and it is too soon to know when it may open to more participants.
Bing Ads Makes Segmentation Simple
Bing Ads has made it simpler to segment data in all accounts, with the introduction of a brand new Segment tab within the campaigns page.
Rather than having to navigate through the reports section, you can segment your campaign data by time. Simply choose time of day, day, month, quarter or year. You can now further segment the data by network and device all within this Segment tab.
To retrieve the data you require, simply select the metrics you require, then download. However, it is worth noting that there are some limitations to the tool. On selecting the 'day' metric you are limited to a maximum of 16 days' worth of data.
More Paid Search News and Advice
Read our last PPC news roundup: AdWords Tests Coloured Ad Label
Looking for more advice on your paid search strategy? Take a look at our PPC management services to see how we could help your online presence grow.