Did you meet the 16 May Google Shopping deadline for GTINs? Paid search expert, Zoe O'Neil provides an overview of what this means to e-commerce retailers and provides her top five tips for organising your product data.
In 2015, Google implemented the requirement of GTINs (Global Trade Item Numbers) across a number of products from 50 brands. The implementation of GTINs has since become obligatory for all brands wishing to advertise and sell brand-name products sold by a number of merchants.
In February 2016, Google issued a warning to some advertisers regarding the implementation of GTIN numbers across their product listings. In the Diagnostics tab of the Google Merchant Center you may have discovered item-level warnings for products which do not currently fit the new GTIN requirements laid out by Google.
On 16 May 2016, Google officially enforced this requirement, disproving any product feeds that did not have the correct information in place, meaning that brands may not have been able to show their Google Shopping Ads and may have lost out on considerable amounts of revenue.
Let's Go Back a Step. What Is a GTIN and Why Is This Important?
GTIN stands for Global Trade Item Number and it refers to a unique number which acts as an identifier for a product, usually found next to the barcode on the product. This helps Google to easily recognise what advertisers are selling, in turn making the online shopping experience more reliable for users.
Essentially, by complying with Google's new GTIN requirements, you are making your ads more accessible to your customers.
A spokesperson from Google stated:
When we understand what you're selling, we can help boost your ad performance by adding valuable details about the product and serving the ad in a more relevant way to users. This also means that your ads can serve in more places on Google, YouTube, and our partner sites.
Google also added that advertisers who have already correctly implemented GTINs to their product feed have seen conversion rates increase by up to 20%.
E-Commerce Tips On Organising Your Product Data In Line With Google
Check your product data. Is it up to date?
Online merchants that sell handmade or vintage products won't be impacted by this change. However, you may still be able to improve your product ads with unique product identifiers where possible.
Submit GTINs as well as brand information for all products that already have GTINs assigned by their manufacturer.
The submission of GTINs applies to brands targeting the following countries:
Australia
Brazil
Czech Republic
France
Germany
Italy
Japan
Netherlands
Spain
Switzerland
United Kingdom
United States
Do your products have a different product identifier? For example, you may sell books or magazines that have an ISBN in place of a GTIN. It is still recommended that this data is implemented, as it may help Google to provide users with more details about the products you're selling. Use the table supplied from Google Merchant Center Help below to identify where your products and their identifiers fit in with Google's new product data requirements.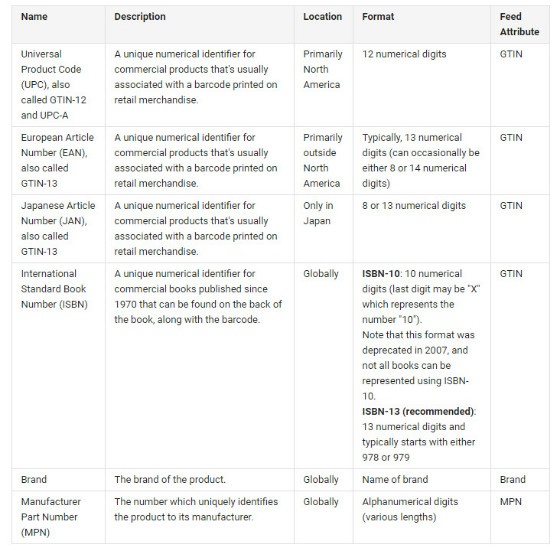 Struggling to manage the required changes to your product data? If you haven't yet implemented product identifiers to your product feed, our paid search management experts can provide support, ensuring that you're not missing out on considerable amounts of revenue. Contact the team today for more information.