Do you enjoy dealing with the change involved in digital marketing? I think everyone involved in digital marketing has to at least force themselves to, since it's unrelenting. It's a challenge, but I do enjoy reviewing the changes, such as new technology innovations and platform changes, and deciding how significant they are to marketing and how to deal with their impact.
We had an example of a huge change in digital marketing this week which you will almost certainly have heard of, if it directly affects your work. That is, if you work 'hands-on' in managing PPC or SEO or you are responsible for delivering leads and sales through search marketing.
The update is to Google AdWords and was announced just a few days before it was rolled out worldwide. The details of the AdWords update were explained well on the ClickThrough Marketing industry news page. It involves a change to the number of ads displayed on the search results page with all right sidebar ads being removed so the page appears like this: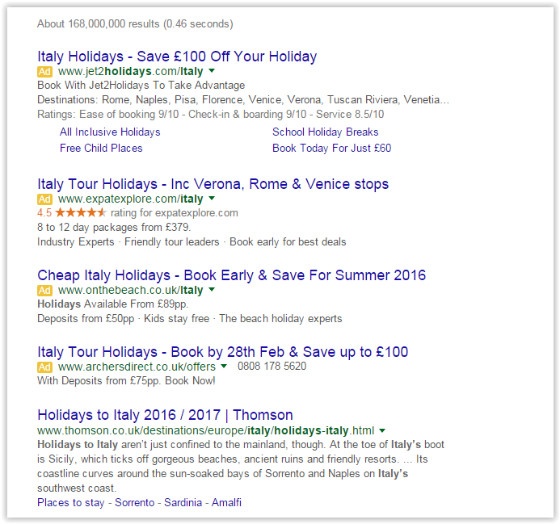 There are two exceptions to the blank area on the right:
Product Listing Ads (PLAs) for retailers will appear above or to the right of search results
The Knowledge Graph panels will continue to appear in the right hand side.
Of course, Google will have tested the revenue impact of this change across different sectors and different countries in detail. We can be sure that they have modelled a healthy increase based on increased competition and an additional ad appearing above the organic listings for competitive keywords. Indeed Google has said:
We've been testing this layout for a long time, so some people might see it on a very small number of commercial queries. We'll continue to make tweaks, but this is designed for highly commercial queries where the layout is able to provide more relevant results for people searching and better performance for advertisers.
How to Review the Impact of the Latest AdWords Changes
Rather than going into any more depth on the details of this change, I thought it would be useful to look at how to review the impact of the change. Remember, it won't affect just traffic from the paid listings, but will affect your organic traffic too. In both cases you may have to explain changes to colleagues or clients of the impact on traffic and related leads and sales, or changes in the Return on Investment (ROI) from AdWords.
When reviewing the effectiveness of any paid, owned or earned media investment in digital marketing I recommend looking at the
VQVC measures of online marketing campaigns which I have written about before on the ClickThrough Marketing blog.
VQVC relates to traffic or clicks through to your site, it stands for Volume - Quality - Value and Costs. The reason I created this mnemonic was to help in training, since I saw again and again that although marketers will measure Volume, you have to work harder to measure the others, so they are often ignored. Let's look at the implications of each for the new AdWords update:
1. Volume With this update we're looking at the impact on both paid and organic clicks or visit volumes, so we need to isolate these.
Google Analytics Segments are the best way to review these traffic types since there are standard 'system' segments for each of these. So select these and review how they have changed through time.
Once the change has been live for a while you can compare one week/month with a previous period.
You should also remember that this change only affects desktop, so you could set up a custom segment of desktop organic and paid visits or alternatively take a look at the segmented report in the Audience, Mobile, Overview report, which breaks out desktop from smartphone and tablet (which the new change will also affect).
2. Quality. This relates to whether the visitors to your site are likely to do business with you. You can use engagement with the site to assess this through dwell time measures such as bounce rate, duration and pages per visit. These should be monitored in AdWords for the new change, but the best measure of quality is, of course, leads and sales. So you should review the change in lead and sales volume and conversion following the new change. I'm assuming these are already set up as goals or through e-commerce tracking.
3. Value. Value is what really matters in AdWords to determine ROI. So tracking changes in sales value as revenue or goal value should be used here.
4. Cost. Finally, changes to AdWords cost will need to be monitored carefully and of course this impacts ROI too. Google's economists will have modelled the impact of increased competition on bids and they are likely to increase in many sectors if businesses want to maintain the volume of clicks.
So, we shall see what the impact is. Regardless of the impact, creating a structured review as I have described, or asking your agency to perform one, can then be applied to review the impact of future changes. As Heraclitus said: "Everything changes and nothing stands still." And Google is certainly no exception!