What is the latest news in the world of digital paid media? Discover more in our latest newsletter.
What's New in Digital Paid Media in March 2020
What is the latest news in the world of digital paid media? In this digital paid media newsletter, we'll be sharing some of the latest updates – from Marketplace Pulse's Amazon Coronavirus Index to changes in search trends, and more.
1. Marketplace Pulse Launches Amazon Coronavirus Index
Considering the COVID-19 outbreak, Marketplace Pulse have recently released an Amazon Coronavirus Index that tracks the popularity of in-demand items such as wipes, medical gloves, soap, hand sanitizers, toilet paper and emergency food. According to Joe Kaziukenas, founder of Marketplace Pulse, "nearly 40% of e-commerce spending in the US happens on Amazon; thus, shopping trends on the site are indicative of the overall consumer trends". Over the last two weeks, coronavirus-related shopping has dominated e-commerce.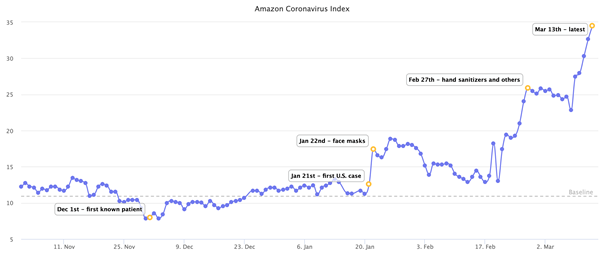 With its vast marketplace, Amazon is uniquely positioned to capture the most spend in the weeks and months to come, with an extensive selection of products for the most in-demand searches. This is further boosted by Amazon having a considerably greater supply of products than most other online retailers.
2. Amazon Launches in the Netherlands!
On March 10th 2020, Amazon launched in the Netherlands, with more than thirty thousand worldwide sellers present. The Netherlands is Amazon's 16th global marketplace and its sixth in Europe, with this launch looking likely to be only the first of Amazon launches set to happen in European countries. It's rumoured that the next Amazon will be opening in the Nordics next, as well as in Poland – but what do you think?
Tweet us at @clickthrough.
3. Facebook Bans Certain Advertising in Response to COVID-19
In response to the outbreak of Coronavirus, Facebook is banning advertising for products that people need to stay safe and stop the spread of the virus (including hand sanitizer, anti-bacterial wipes and COVID-19 testing kits). In addition to these measures, Facebook is also removing any abusive content found in organic posts for these products.
While Facebook has made clear its plan to ban these advertising for certain product categories, it's also worth noting that automated review is going to be relied upon heavily in the coming months, due to all contract workers performing review being sent home in line with government advice (including those who review ads and monetised content).
For advertisers, this means:
A delay in ads and commerce listings being reviewed
An increase in ads being incorrectly disapproved
A delayed response to appeals
Limited availability of Facebook in-stream ads
To help reduce levels of disruption, it's advised that advertisers extend their delivery of existing Facebook ads, rather than creating new ones.
4. Significant Changes in Google Search Trends
As a result of Coronavirus, Amazon has reduced its spending on Google ads to virtually nothing. Due to the widespread impact of COVID-19, there have been significant changes to buying trends, impacting Google ads, affiliation and publisher advertising.
Amazon is currently turning its focus to meeting the demands of consumers who are being advised to stay home and avoid public spaces, which is why it's no surprise to see trends for household items spiking to an extraordinary degree.
Items that are usually among the most popular products listed for sale on Amazon (namely, yoga mats and Apple Air Pods), are now being dwarfed by the demand for necessities like toilet paper: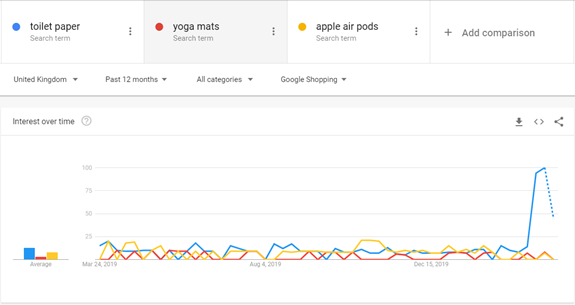 These changes in consumer buying trends are so profound that Amazon is hiring 100,000 new staff members in order to meet the demand, which is only set to increase in the coming months as the Coronavirus continues to spread.
If you want to find out more on the latest updates in the world of DPM, get in touch today. You can also tweet us your thoughts @clickthrough.