With an all-electric vehicle future on the horizon, which UK cities are best prepared with EV charging stations?
A lot of us already know that electric vehicles are the future. In fact, in just 8 years' time anyone looking to buy a brand-new car will only be able to choose electric, following a government mandate to cease sales of new non-electric vehicles by 2030.
A lot of people have already chosen an electric car and many more have a clear interest in making their next purchase electric. Looking at search trends for electric vehicles in the last 10 years, the past 12 months has seen enquiries link tightly to petrol prices going up, jumping significantly in the past year. Drivers are clearly trying to find a cheaper and more environmentally friendly option for getting around, ahead of the mandatory switch.
2030 will come around very quickly, so, which areas in the UK are best prepared for this change, and which areas need more investment in electric charge points as, currently, there aren't enough to meet the number of electric vehicles on the roads?
We found that;
UK-wide, there is one public charging point for every 4,786 drivers, with a typical electric vehicle taking just under 8 hours to go from empty to full,

The 6% of Worcester's driving license holders with an electric vehicle are best serviced with electric vehicle charge points, with 12.1 for every 100 EV drivers.

Glasgow is one of the worst equipped cities, with 1,042 charge points shared between 292,096 vehicles – only 2 per 1,000 EV drivers!
Which cities have the most registered electric vehicles?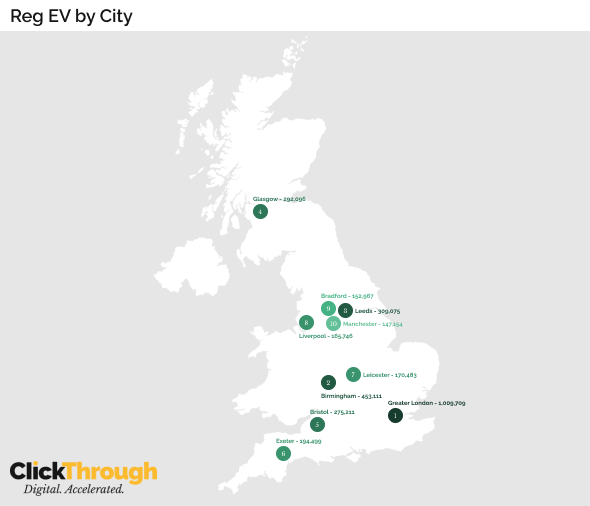 Naturally, London has the most registered electric vehicles by far, with 1,009,709 vehicles registered, sharing 2.78 per 100 EVs. Birmingham follows London with 453,111 vehicles registered, sharing 0nly 0.62 charge points for every 100 vehicles registered.
Leeds has the third highest amount of registered electric vehicles for all cities in the UK. With 309,795 vehicles currently sharing 3,967 electric vehicle chargers between them, they're also best placed for any sudden movement from petrol engines to EVs, with 6.86 charge points for every 1,000 license holders.
Which cities are best prepared for Electric vehicles?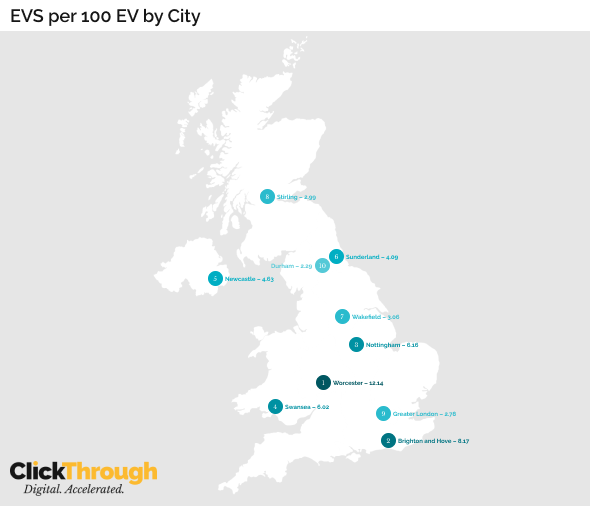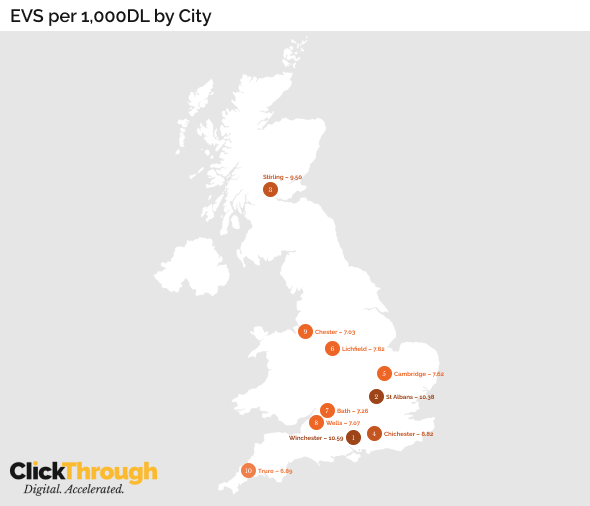 Some cities are well prepared for any potential uptake in electric vehicles, while having a relatively small amount of registered electric vehicles in the area. For example, Worcester rank 35th for total electric vehicles registered (6,393), and 1st for charge points per 100 vehicles, with one between every ten EV drivers.
Winchester are also well-prepared, coming in as the top city for charge points per 1,000 driving license holders (10.59 per thousand). However, with a high uptake of electric vehicles in the area already, 55,149 EV drivers are already putting these to good use (sharing 1.28 per 100 electric vehicles).
Which areas have the highest volume of private electric vehicle charge points (per 1,000 drivers)?
Stirling – 13.38

Kinross-shire – 13.08

South Northamptonshire – 11.45

Chiltern – 11.15

Stratford-on-Avon – 11.04

Selby – 10.86

Rushcliffe – 10.79

Warwick – 10.75

Windsor and Maidenhead – 10.42

Hinckley and Bosworth – 10.26
Looking more beyond cities, the areas with the highest volume of private charge points varied across the UK, with Kinross-shire and Stirling in Scotland topping the table. We've commented on the number of private charge points as areas with higher volumes will see less strain and demand on public charge points.
High volumes of private charging points indicate high levels of electric vehicle ownership. Many of these areas have a higher cost of living associated with the area. With few electric vehicles currently on the second-hand market, and the cost of electric vehicle charge point installation alone averaging £1,000 (Check a Trade, Apr 2022), the expense of taking on an electric vehicle is not insignificant.
Which areas in London have the highest % of public electric vehicle charge points?
Westminster – 88.9%

Hammersmith and Fulham – 88.3%

Kensington and Chelsea – 87.6%

Hackney – 73.6%

Southwark – 69.1%

Newham – 62.5%

Wandsworth – 60.4%

Islington – 57.8%

Tower Hamlets – 51.5%

Lambeth – 49.2%
With London districts being a stand-out in our data when it came to the availability of public charge points, we dived further in to see which Londoners are best placed when it comes to electric charging.
29.4% of Greater London's charge points are available for public use, a figure beaten only by Coventry's 33.3%. Both Kensington and Chelsea, and Hammersmith and Fulham have over 5 public charge points per 1,000 license holders, a figure exceeding the total amount of private charge points for more than half of the UK.
So why would this be?
This could be down to greater local investment in greener transport, a response to rising levels of commuters in electric vehicles, or at the request of local businesses. It's worth noting that fully electric vehicles are exempt from the London congestion charge, so the abundance of EV charge points could also be down to a general push towards electric vehicles in the capital.
Furthermore, the 47.3% of London residents who are privately or socially renting their homes (Trust For London – 2020), compared to 19% UK-wide, are significantly less likely to invest in an electric vehicle charge point that, ultimately, will not belong to them. Ensuring there are more publicly available charge points to accommodate this helps to improve any negative impact this may have on electric vehicle uptake.
What else could affect electric charge point availability?
Since June of this year, government policy has mandated that all new buildings (and any undergoing significant renovations) must have an electric charge point fitted. This is great news for anyone looking for a new build home as they can guarantee there will be a private charge point available.
So what can we expect from this? Areas with upcoming new build estates are set to have their total charge points skyrocket, with the knock-on effect in the area meaning less demand on public charging stations.
Methodology
We looked at the total number of full license holders in the UK – i.e. Anyone who is eligible to drive an electric vehicle.
'Private' electric charge points can mean charge points within homes or businesses, while public charge points can be accessed by anyone with an electric vehicle.
Photo by Andrew Roberts on Unsplash