Think you've still got while to think about Black Friday planning? Wrong! Find out why now is the time to get ahead of the game by planning your Paid Social ads.
PAID SOCIAL: WHY NOW IS THE BEST TIME TO PLAN YOUR BLACK FRIDAY ADS
As we approach Q4, it's important for brands to start their Black Friday planning. This year, Black Friday falls on Friday 26th November and, the key to success is to be as organised as possible. I'm going to be sharing my top tips for planning your Black Friday Paid Social ads throughout this blog.
Be Prepared
It's important to plan your strategy across all channels. When looking at Paid Social in particular, it's one of the most competitive times of year – bringing in higher costs. This is why it's crucial for brands to get their strategy correct so they can stand out from their competitors. It's important to know who you want to target and the message you want to portray.
Build up the suspense with your audience. Let them know your brand has an offer upcoming, so that you can raise that initial awareness and buzz around the event. Look into countdown ads, so that users know how many days they've got to wait until the offers are live - You could give them a sneak peek into what offers will be available.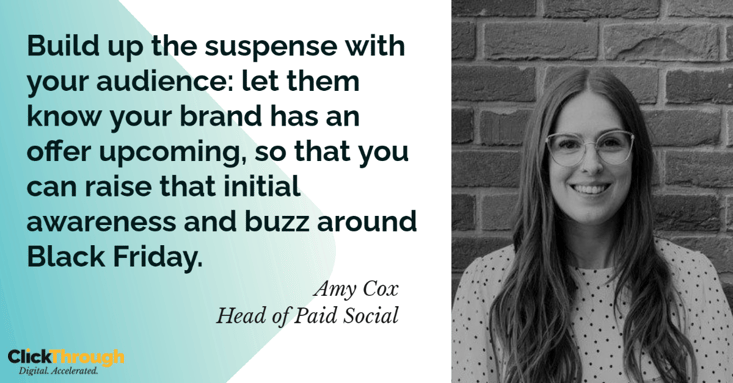 Get an organisation document in place so that everyone knows what is going live, and when. Have everything prepared ahead of time so that there's no last-minute changes. When an ad is created, it goes into a review process – even before this goes live so, the earlier the ads are created, the less likely they are to get stuck in review and can go live straight away.
We're also able to schedule individual ads within many paid social channels, so it won't be an issue to get prepared and have the ads built out and ready to go. Utilising ad scheduling also helps when including countdown ads, as this doesn't mean you need someone on hand at midnight to pause one ad and switch another ad on – a marketer's nightmare!
Stand out from your Competitors
Play about with content - have fun and think about how your brand can stand out from the crowd! Align with best practice guidelines for each platform and remember to create bespoke assets for each different social channel. Keep your branding within the assets and remember to utilise different ad formats to capitalise on brand recognition while avoiding any ad fatigue. Utilise a mix of video and static, as you're able to retarget off people who have viewed your video and can then serve them with other relevant ads without seeming too desperate!
Static ads tend to work best to drive users to site on certain platforms, so it's key to consider this when thinking about Facebook/Instagram, Pinterest and Twitter. Play about with different formats, such as standalone static posts, carousel ads, collections, etc.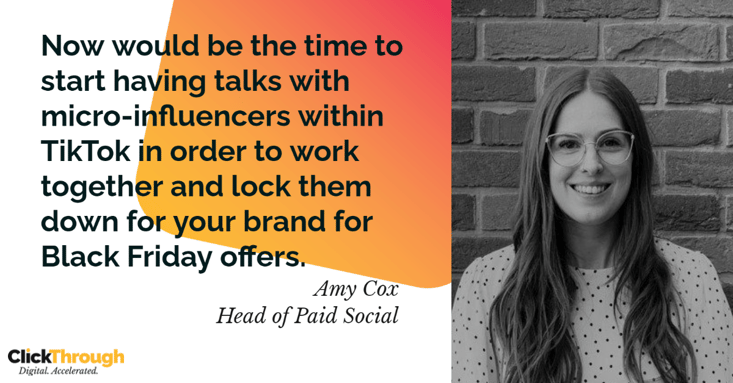 Remember if utilising TikTok, that it's best to create native looking content. Now would be the time to start having talks with micro-influencers within the platform in order to work together and lock them down for your brand for Black Friday offers.
Inspire Users
Use this time to reach out to prospective users and offer them some great deals whilst discovering your brand. At the same time, you can reward your loyal customers with offers too – rewarding loyalty is a great way to keep these customers coming back. This can be done by serving different messaging to both types of audience. In the madness of Black Friday, it's key to tailor content to your users to make it a more personalised experience, and that's why it's important to not just utilise the same assets and copy across large chunks of your strategy – linking back to being prepared and organised.
Got some big budgets? How about looking into some premium content? On the likes of TikTok, Twitter and Snapchat you're able to pay a certain amount for a takeover day. This means you utilise a specific ad format and serve to the whole of the UK for a day – normally to gain mass awareness. These dates get snapped up very quickly, as you can imagine, so that's why if you were to go down this route then you would need to be liaising with the platforms months in advance.
Haven't got big budgets? No problem, if you follow the tips above, then you can still hold a solid strategy and really capitalise on the seasonal period!
Utilise this time to Test & Learn
It's good to utilise the time ahead of Black Friday to test and learn with different ad formats. Test what works best for your brand and audience - for instance, do statics or carousels work best to drive users to your site? It's also a good time to play with polls on Instagram Stories, Facebook Feeds and Twitter, to learn what kind of offers users would much prefer. This will not only give you, as a brand, learnings on what your audience like, but also creates a buzz and increased engagement around what kind of offers you might be delivering around Black Friday.
Think about landing pages and giving a streamlined user journey. The more streamlined, the better for keeping your users happy and getting them to the end of that conversion funnel. Again, the months ahead of Black Friday allows you to do any landing page tests for you to understand the best user journey, you could even work on your conversion rate optimisation strategy specifically in line with your paid social campaigns.
As well as ad formats, you can always test what type of ad copy users engage most with. For instance, test informal language which includes emojis, short vs. long copy, including the URL in the copy, etc. All these little things will help you get ahead of the game when it comes to understanding your audience, and how is best to engage with them – especially at such a competitive time.
What's next?
So, the best way to have a successful Black Friday campaign is to start the planning process now. Think about things you want to learn beforehand in terms of copy and assets. Plan who you want to target, with what messages and, finally, be organised and prepared. Ensure there's clear communication between all parties and everyone knows the plan.
To recap, to plan for a successful Black Friday ad campaign you should;
Know who you want to target and the message you want to portray.
Build suspense with countdowns and sneak previews.
Get an organisation document in place.
Have the ads built out and ready to go ahead of time.
Create bespoke assets for each social channel.
Play about with different formats.
Create native looking content
Give your users a personalised experience.
Look into premium content options.
Optimise landing pages for user experience.
Test and learn.
It can be a very stressful time of year for marketers, so it's recommended to be as prepared as possible and ensure all your ads are ready and scheduled ahead of the Black Friday period.
Want to learn how we can help secure Black Friday conversions through Paid Social advertising? Get in touch with our team to find out!